Posts for tag: dental implants
By Richland Creek Family Dentistry
July 15, 2016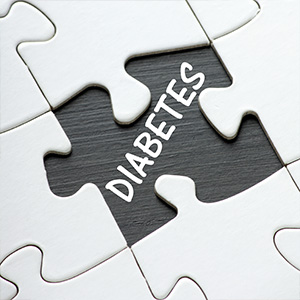 If you're one of the more than 26 million people in the U.S. with diabetes, you know first hand how the disease impacts your life. That includes your dental health — and whether or not implants are a good tooth replacement option for you.
Diabetes is actually the name for a group of diseases affecting how your body processes glucose, a simple sugar that provides energy for the body's cells. The level of glucose in the blood is regulated by insulin, a hormone produced in the pancreas. Diabetes causes the pancreas to either stop producing insulin (Type 1) or not produce enough (Type 2). Also in Type 2, the body can become unresponsive to the insulin produced.
The implications for either type are serious and can be life-threatening. If glucose levels are chronically too low or high the patient could eventually go blind, suffer nerve damage, or develop kidney disease. Diabetes also interferes with wound healing and creates a greater susceptibility for gangrene: diabetics thus have a higher risk for losing fingers, toes and limbs, and can even succumb to coma or death.
Type 2 is the most common form of diabetes. Fortunately, most people with this type can effectively manage it through diet, exercise and regular glucose monitoring; if need be, prescription medication can help regulate their levels. Even so, diabetics with their disease under control must still be alert to slower wound healing and a higher risk of infection.
Because implant placement is a minor surgical procedure, the aspects of diabetes related to healing, infection and inflammation could have an adverse impact on the ultimate success of the placement. Implant surgery creates a wound in the surrounding gum tissues and bone that will need to heal; the body's immune response in a diabetic can interfere with that process. And if infection sets in, the risks of implant failure increase.
But research has shown that diabetics with good glucose management have as high a success rate (over 95% after ten years) as non-diabetic patients. That means the implant option is a viable one for you as a diabetic — but only if you have your disease under control.
If you would like more information on the relationship between dental implants and other health conditions, please contact us or schedule an appointment for a consultation.
By Richland Creek Family Dentistry
April 08, 2016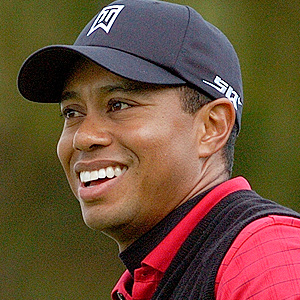 Let's say you're traveling to Italy to surprise your girlfriend, who is competing in an alpine ski race… and when you lower the scarf that's covering your face, you reveal to the assembled paparazzi that one of your front teeth is missing. What will you do about this dental dilemma?
Sound far-fetched? It recently happened to one of the most recognized figures in sports — Tiger Woods. There's still some uncertainty about exactly how this tooth was taken out: Was it a collision with a cameraman, as Woods' agent reported… or did Woods already have some problems with the tooth, as others have speculated? We still don't know for sure, but the big question is: What happens next?
Fortunately, contemporary dentistry offers several good solutions for the problem of missing teeth. Which one is best? It depends on each individual's particular situation.
Let's say that the visible part of the tooth (the crown) has been damaged by a dental trauma (such as a collision or a blow to the face), but the tooth still has healthy roots. In this case, it's often possible to keep the roots and replace the tooth above the gum line with a crown restoration (also called a cap). Crowns are generally made to order in a dental lab, and are placed on a prepared tooth in a procedure that requires two office visits: one to prepare the tooth for restoration and to make a model of the mouth and the second to place the custom-manufactured crown and complete the restoration. However, in some cases, crowns can be made on special machinery right in the dental office, and placed during the same visit.
But what happens if the root isn't viable — for example, if the tooth is deeply fractured, or completely knocked out and unable to be successfully re-implanted?
In that case, a dental implant is probably the best option for tooth replacement. An implant consists of a screw-like post of titanium metal that is inserted into the jawbone during a minor surgical procedure. Titanium has a unique property: It can fuse with living bone tissue, allowing it to act as a secure anchor for the replacement tooth system. The crown of the implant is similar to the one mentioned above, except that it's made to attach to the titanium implant instead of the natural tooth.
Dental implants look, function and "feel" just like natural teeth — and with proper care, they can last a lifetime. Although they may be initially expensive, their quality and longevity makes them a good value over the long term. A less-costly alternative is traditional bridgework — but this method requires some dental work on the adjacent, healthy teeth; plus, it isn't expected to last as long as an implant, and it may make the teeth more prone to problems down the road.
What will the acclaimed golfer do? No doubt Tiger's dentist will help him make the right tooth-replacement decision.
If you have a gap in your grin — whatever the cause — contact us or schedule an appointment for a consultation, and find out which tooth-replacement system is right for you. You can learn more in the Dear Doctor magazine articles "Dental Implant Surgery" and "Crowns & Bridgework."
By Richland Creek Family Dentistry
December 08, 2015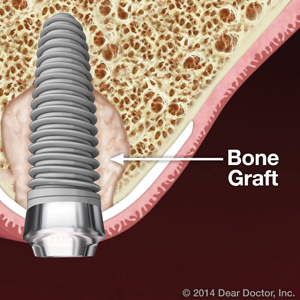 Every day the forces you generate when you bite or chew can exert enormous pressure on your teeth. And day after day your teeth remain stable and secure, thanks to an intricate system of periodontal ligaments, attaching gum tissue and bone. The latter element is especially important — healthy bone makes healthy teeth.
And vice-versa — the same biting forces are transmitted through the tooth root to the bone via the periodontal ligament to stimulate new bone growth to replace older bone that has dissolved (resorbed). If a tooth's missing, however, the bone doesn't receive that stimulation, and the resorbed bone isn't replaced at a healthy rate. In fact, you can lose up to a quarter of bone width in the first year alone after tooth loss.
And this can cause a problem when you're looking to replace that missing tooth with what's considered the best restorative option available: dental implants. Known for their life-likeness and durability, implants nonetheless need sufficient bone to anchor properly for the best outcome. Without it, implants simply aren't practical.
But that doesn't have to be the end of the story: it's quite possible to regenerate enough bone to support implants through bone grafting. Bone material from the patient (or another donor, human, animal or synthetic) is placed under the gum at the missing tooth site to serve as a scaffold for new growth. The new bone growth will eventually replace the graft material.
The size of the graft and extent of the procedure depends of course on the amount of bone loss at the site. Loss can be kept to a minimum, though, if the graft is placed immediately after a tooth extraction, a common practice now. After a few months, the bone created through the graft is sufficient for supporting an implant and gives you the best chance for a beautiful outcome.
If you're considering an implant for a missing tooth, you should schedule a consultation appointment with us as soon as possible. After a thorough dental exam, we'll be able to tell you if bone grafting to support implants is a good idea for you. It adds a little more time to the overall implant process, but the results — a new, more attractive smile — will be well worth it.
If you would like more information on bone regeneration, please contact us or schedule an appointment for a consultation. You can also learn more about this topic by reading the Dear Doctor magazine article "Can Dentists Rebuild Bone?"